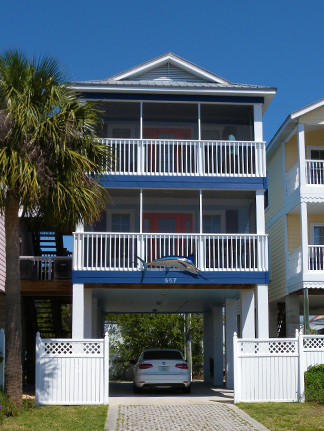 Drive up under The Blue Bungalow and you're another one of Cedar Key's 700 full-time inhabitants-- for today, for the weekend... from now on?
Boat-ready with parking, this First Street rental is comprised of the townhouse's complete first floor, accessorized with a screened porch on which to savor breakfast at sun-up or a mid-afternoon slice of Key Lime pie!
An amber stained-glass window sailboat and palm tree vignette, deserted island prints and jewel-toned butterflies greet you-- and all you need for a cup of joe-- as you drop the keys upon entering The Blue Bungalow. What if you lived here? You can't help but wonder. A chunky table, urging a local grouper sandwich meal or a boardgame, a large wall-mounted television, and a full kitchen-- all sized for two in flipflops-- define the living/dining room area.


Cedar Key Island Accommodations
Being centrally located, you'll find yourself only one block from The Market, Cedar Key's local grocery store, and even closer than that to our Post Office and newest breakfast & lunch joint, The Holey Moley. Grab an orange dreamsicle doughnut or chocolate eclair to enjoy in one of the few rocking chairs on their front porch while watching the true definition of "island time" take place right before your eyes. Another option is just an additional hop, skip, and jump away on your morning stroll down to Bake My Day, where you can enjoy your choice of a breakfast sandwich, pastry, or out-of-this-world goodie from their fresh bakery case in the great company of Ms. Brenda and her ever-pleasant staff.
For relaxing activities later in the day, our City Beach Park is very accessible at only a handful of blocks away where you can join others enjoying the sun and sand, or pavilioned shade and water views, or slide around the corner to our island city's largest fishing pier-- only a football field length or so away-- to catch that evening's supper. Either way, you can't go wrong.
---
"Beautiful place! Exceptionally clean and well maintained. Had a great relaxing time away from city life.We will definitely be back to enjoy the quiet & peaceful serenity of the Blue Bungalow."
- Pat & Sue, Lakeland, FL
"We stayed here for our honeymoon & it was amazing. The house was perfect, weather was perfect and the city is amazing. We can't wait to come back! Thank you so much!"
- Kevin & Angela
"We were disappointed to not have an available room in the main complex on Dock Street, but much to our surprise staying in the Blue Bungalow was the "bonus plan." Complete quiet, and solitude in this cottage. The weekend was absolutely perfect. The cottage is kept in immaculate condition, and everything one needs is right here. Also, the girls at reception are cheerful and super helpful. When we return we will only want the Blue Bungalow."
- The Quigleys, St. Augustine, FL